Xenia
pears

are the new favourite thanks to campaign
Xenia Europe
The Xenia pear really does have it all – it's delicious, easy to eat, locally produced and bursting with vitamins and fibre. Not only is this mouth-watering Dutch fruit a great addition to a healthy diet, it also has the 'On The Way to Planet Proof' quality label and organic certification. So, plenty of reasons to take the challenge to popular fruits such as the apple, orange and banana! The Pear vs Apple campaign puts the benefits of the Xenia pear in the spotlight and promotes it as a healthy, sustainable and tasty local alternative to other popular fruits.
RAISING THE PROFILE OF XENIA PEARS AMONG DUTCH CONSUMERS
Xenia is a highly versatile, delicious pear that can be eaten all year around once harvested. And it has a long shelf-life. But not everyone knows that. To increase brand awareness and boost pear sales, Xenia approached Food Cabinet to come up with a market proposition and activation strategy for Xenia pears in the Netherlands.
THE CONCEPT: PEAR VS APPLE (AND OTHER HAND FRUIT)
In terms of sales, the apple beats the pear by up to five times, despite the fact that the pear – and the Xenia pear, in particular – scores at least as well when it comes to taste, convenience, bite, sustainability and health. So, it's high time to set the record straight! In the creative concept, the Xenia pear competes with other popular fruit such as the apple, banana and orange.
The fruits are compared with each other in a humorous and typically Dutch down-to-earth way, with the Xenia pear, of course, beating out the competition to be crowned a 'must-have' in fruit bowls up and down the country. It's tasty, rich in fibre and vitamins and – to top it off – produced locally. The campaign consists of short online video clips and ads on social media. The campaign also featured prominently in bus shelters and on the streets in nine major cities.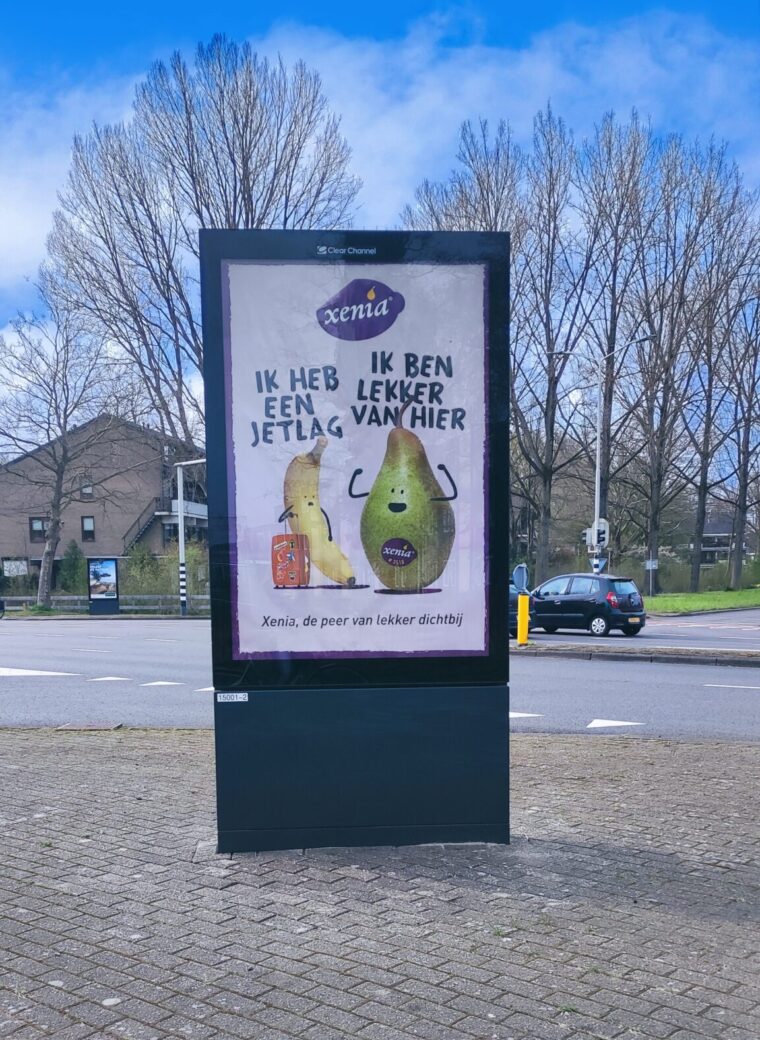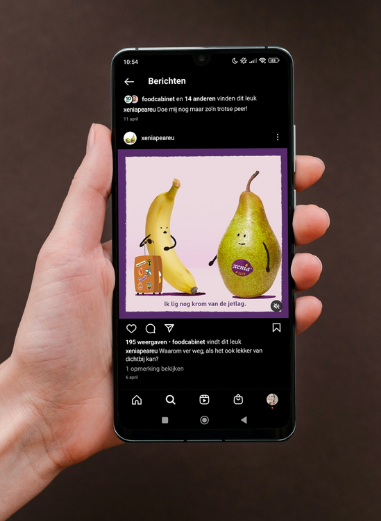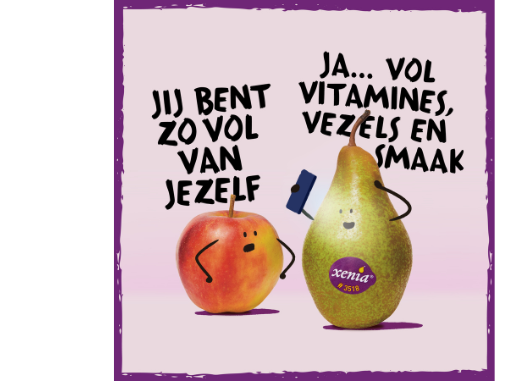 THE LOVEABLE BATTLE WITH GREAT REACH
The ads on social media as well as bus shelters in nine major cities ran for a fortnight. The first week achieved a reach of 1,414,791. Social media ads on YouTube, Facebook and Instagram resulted in a reach of 450,432, 3,832,006 impressions and 11,178 click-throughs to the website. The videos were often viewed more than expected, especially on YouTube, delivering a result that comfortably exceeded the target (a 485% increase in views).
Xenia
The Xenia pear is a sustainable and organic fruit grown both on Dutch and European soil. This pear, which is relatively easy to grow, is loaded with flavour and nutrients and can be eaten all year round.
Partners
For the Apple vs Pear campaign, we joined forces with:
Client: Bernd Jelmar Feenstra (of Xenia Europa)
Photography: Lidian van Megen
Design: Krista Stofberg
Motion design: Randy Beker
Sound: Joshua Petit
Voice-over: Sem Chouikha
WANT TO LEARN MORE ABOUT OUR APPROACH AND STRATEGY?
Please contact Kevin Corcoran via kevin@foodcabinet.nl or +3120 2233161